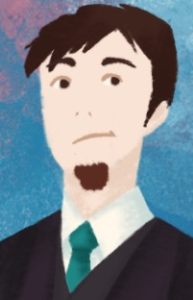 Matt Alan was born in June 1988 in Scottsboro, Alabama.  As a child, Matt enjoyed reading any and all types of books.  In middle school, he developed a love for science fiction and fantasy, getting lost in the worlds of Prydain, Narnia, Harry Potter and Ender's Game.  Falling deeper into the well, he discovered such authors as Robert Heinlein, Robert Jordan, Brandon Sanderson, David Weber, and C.S. Friedman.  Taking inspiration from his favorite authors, Matt attempted to write his own space operas and fantasy – which shall never see the light of day if he has anything to say about it.
During his high school years, Matt discovered another passion, voice over work.  Soon, Matt purchased a microphone and began auditioning for freelance productions online with actors from around the world.  After completing his Associates in Theater, he moved to New York City.  Matt had the pleasure of being roommates with the incredibly talented Lucien Dodge and making a few lifelong friends in the voice over world.  While chasing the dream of performing in the recording booth, Matt continued to write and develop stories.  Somewhere in there, he picked up a Bachelors degree in History with a minor in Political Science.
In June 2013, Matt married Liz.  The wonderful Liz and Matt moved to Long Island to start the next chapter of their lives together.  Although Matt was enjoying his pursuits of a voice over career, something was missing.  It would be Liz who asked, "Have you ever considered a writing degree?"
With the encouragement of his lovely wife, Matt would enroll in the Writing MFA program at Lindenwood University in the Fall of 2013.  While studying at LU, Matt served as one of the assistant editors on the fifth issue of the Lindenwood Review – an enlightening experience to say the least.  He read hundreds of submissions, wrote around the clock and balanced a day job with a horrendous commute (with ample time for writing!)  In the process, Matt forged deep bonds with fellow aspiring writers and learned much about being a writer from his favorite Pulitzer Prize nominated teacher, Prof. Kelli Allen.  Matt graduated with his MFA in the Summer of 2015. Unfortunately, Matt still struggles with the condition known as "toomanycommas," to the dismay of friends and fellow writers Edward, Krysta, Cathy, and Justin.  (Liz has since accepted that there is no cure.)
In 2015, Matt and Liz purchased a house and moved back to Alabama where they spend most of their time marveling at how much more space they have now as opposed to their previous apartments.  Matt's first published credit would be a flash fiction on the Entropy website.  Matt continues to voice act from his home studio and is happy to take on gigs as they come.  He would also adapt the script to the anime Holy Knight for Media Blasters, directed by the ever delightful Brittany.  In December 2015, Matt completed his first novel – the expanded version of his thesis, and childhood space opera, Beyond the Stars.
You can also follow Matt Alan on Facebook and Twitter, or read some of his work on the Bookcase.
If you're still reading this far, (and why would not be?) I'd like to give a shout out to a few people who have had a huge impact on my personal and professional career.  My parents, for without them I would never have discovered my love of books, or writing.  To Dustin, also known as George, Ralph and a slew of other names, who always believed.  Kerri, who showed me how cool giant robots could be (and does awesome artwork!)  Lucien, who without his guidance I would have never found my way around NYC or into the recording booth.  Justin, who has spent many a night helping me find the science in science fiction.  Krysta, who shows me the deeper meaning behind every word.  Cathy, who helps me make sense. Edward, who both inspires and challenges me with each new story.  Prof. Kelli, who's classes and advice made the MFA worth it.
And most of all, thank you to my wonderful wife – for reason I cannot even begin to list.
Bio pic of Matt designed by Kerri. Website background image designed by Megan Kelley. WordPress theme is Chosen.